Symposium on Learning and Innovations in Resilient Systems
Resilient systems address pressing societal and environmental challenges. Resilience has been widely adopted in policy, practice and research on (i) information and computer systems, (ii) organizational and management systems, and (iii) environmental systems. However there is little consensus regarding what resilience is and what it means to society. And perhaps most importantly, what societies require to learn from the past and to innovate supporting resilient systems in the future.
The symposium on Learning and Innovation in Resilient Systems, is a large international conference that offers an unique opportunity to discuss innovation and learning processes in resilient systems. The host, the Open University the Netherlands, offers international researchers an opportunity to share ideas and knowledge with a broad audience, and aims to provide stepping stones towards 'more resilient systems'.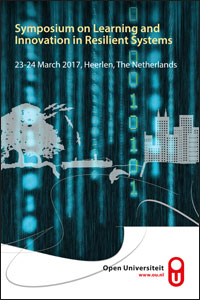 Flyer Symposium on Learning and Innovation in Resilient Systems
Vindt plaats op: 23 mrt 2017 Locatie: Heerlen Tijdstip: 9.00 - 17.00