Staff Event 2019 | 20-21 November
Supporting the Student life cycle
How to support the student life cycle in online distance universities
The proposal of the Open University of the Netherlands is to create an open forum for administrators and staff of support services in online distance universities with EADTU's main purpose in mind: the promotion of online, open & flexible education. To initiate this, OUNL organises a two day Staff Event on support services in distance teaching universities. This training creates a unique opportunity for support staff to meet, share expertise, and learn from their peers about different ways to organise support structures for online distance education.
Theme
The Staff Event focusses on the implementation and support of (new) educational concepts, approaches, structures and instruments within the student services & IT of our universities. The event is based on the Student Life Cycle:
In his or her orientation the (future) student has to be provided with the right kind of information and easy ways to reach out to the university.
While enrolling, all the administrative processes must be flawless.
While studying, all aspects of the (online) learning environment have to be in place.
Examinations will be organised, grades will be given and communicated with the students.
After graduation, it is important to maintain a good relationship with the alumni.
The daily operation of a distance teaching university relies heavily upon these kinds of online services, processes and systems. Support staff and management are put up-front: the floor is theirs to share and learn from each other.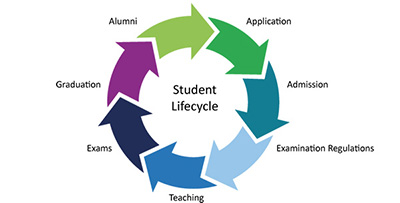 Target group
This Staff Event is open to (management of) support staff within a wide range of expertise, e.g. marketing and communication, enrollment, student administration, alumni officers, IT development and support, e-learning support, (digital) online assessments and student services.
In most countries there are only one or two online teaching universities, so there are few opportunities for support staff to share knowledge/expertise and exchange experiences on a national level. Although bachelor and master studies in online teaching universities are not fundamentally different from those at campus universities, the (digital) learning environment and the organizational aspects, underlying processes and support services are.
This event is organised in cooperation with EADTU, the European Association of Distance teaching Universities.