Newsletter March 2018
In September 2017, five Higher Education institutions across Europe were awarded a total of €291,359 from the Erasmus+ Strategic Partnerships Fund to lead an innovative cross-national project on cyberbullying.
The 'Blurred Lives' project will be led by the Stranmillis University College's Director of Research and Scholarship, Dr. Noel Purdy, who will work closely with four experienced EU anti-bullying experts: Prof. Peter K Smith (Goldsmiths, University of London), Prof. Antonella Brighi (Università di Bologna, Italy), Dr. Trijntje Völlink (Open Universiteit, Netherlands) and Prof. Herbert Scheithauer (Freie Universität Berlin, Germany).
The project aims to focus on cyberbullying among young people in five different regions of the European Union and seeks to involve, train and empower young people as co-researchers. In seeking to work with young people from lower socio-economic backgrounds across Europe, the study also seeks to explore how these young people in particular understand, experience and respond to cyberbullying. The project also intends to provide resources for teachers, pupils and parents/carers, and make important recommendations to social networking providers.
The team met for a productive European launch in Belfast in November 2017, where each partner discussed their key roles and the proposed outcomes of the project. The team also met and consulted with an advisory group including representatives from the National Children's Bureau Northern Ireland, the Northern Ireland Anti-Bullying Forum and Barnardo's Northern Ireland.
As the project moves forward, the team have been taking significant steps forward in preparation to gain ethical approval for a questionnaire that they hope to distribute to partner schools. The team plan to survey 500 young people from each European region about their experiences while using the internet with the intention to use this evidence as valuable background evidence to inform the next stage of the project.
Principal Investigator, Dr. Noel Purdy, commented: 'We are delighted to have been successful in attracting this significant EU funding for such a timely, important project. With such an experienced international team involved, I am confident that the outcomes of the Blurred Lives project will improve the lives of many hundreds of young people in schools right across Europe'.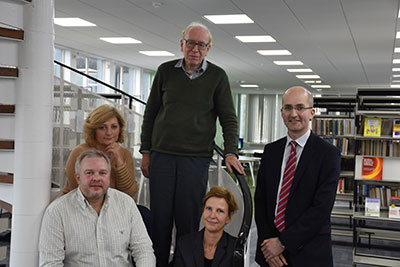 From left to right:
Prof. Herbert Scheithauer, Prof. Antonella Brighi, Prof. Peter Smith, Dr. Trijntje Völlink, Dr. Noel Purdy