University of the West of Scotland
The University of the West of Scotland
(UWS) aims to have a transformational influence on the economic, social and cultural development of the west of Scotland and beyond. UWS influences the economic, social and cultural development of the west of Scotland and beyond by providing career-relevant, high quality, inclusive higher education alongside innovative, internationally recognised research. UWS is placed by Times Higher Education in the top 500 universities in their 2019 World University Rankings and in the top 150 in THE's Young University Rankings 2018.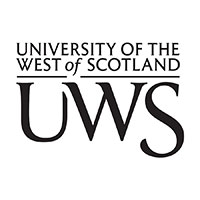 Our School of Media, Culture & Society is where social sciences and the creative and cultural industries meet. Staff and students in the School are creating a centre of excellence in media, culture, and society education, knowledge creation, exchange, and creative practice.
We are proud of our exciting and contemporary courses of study, most of which hold industry and professional body accreditation. We invest in the potential of our students to shape their own future. Our practice based, research informed courses ensure our students enjoy an internationalised curriculum. Our graduates are empowered to make both cultural and social change.
Our courses are delivered at the University's award-winning, Ayr Campus, at our Paisley Campus, at our London Campus, and with a range of world-class venues. Our expertise in social sciences builds on a heritage of over 50 years' delivery of social science education and research.
The UWS team (project coordinator) has extensive experience in managing European projects and includes staff with expertise in bullying, serious game design, simulated learning pedagogy, evaluation of educational games and teacher training. Because of their expertise in serious game design and simulated learning pedagogy this partner will lead the technical development of the game and the simulated learning training for teachers. They will also contribute to the development of the pedagogic guides and the piloting and evaluation of the educational game.