International conference: Making the smart city safe for citizens
The case of smart energy and mobility
On November 28th and 29th, 2018, The Open University of the Netherlands in Heerlen and the Business Intelligence & Smart Services (BISS) Institute hosted the international conference: Making the smart city safe for citizens: The case of smart energy and mobility'. Interdisciplinary perspectives on data ownership, data security and liability. The workshop took place at the Brightlands Smart Services Campus, Heerlen, Netherlands.
Here you can see the full recording of all three plenary sessions which took place on 28-29th November 2018 in Heerlen. Use the tabs to select the presentation you want to see.

The smart city has become the leitmotiv of urban development in the sustainability transition. It promises to reorganize the flows of resources, goods, services and people much more efficiently, drawing on sensor technologies and artificial intelligence, and thereby potentially saving resources on a massive scale. Many cities have engaged in partnerships with technology corporations to pilot data-based ways of running the city. According to critical voices, however, there is a clear risk that smart cities end up selling their citizens' data to private investors for private profit, rather than using the data for the common good. Additionally, instead of serving sustainability and enhancing quality of life, many smart city innovations could be used for the surveillance and manipulation of citizens, and is criticized for furthering the privatization of public services. The way data has been handled by some cities has been exposed as failing to meet the requirements of privacy and data security.
What needs to be done?
Before this background, we ask: What needs to be done to make the smart city safe for its citizens? 'Safe', here, is meant in a political, legal, technological and emancipatory sense. This conference showcases the current work of the programme Safety in Urban Environments, the 2018 research focus of the Open University of the Netherlands.
At this conference we will bring together practitioners from leading smart cities with experts on artificial intelligence, data security and privacy from various disciplines. Our workshop involves experts from law, political sciences, environmental sciences and computer sciences, among others.
To book a place at the conference, please register by filling out the registration form.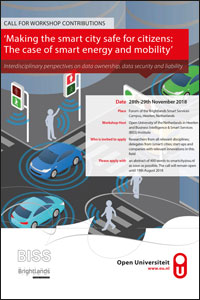 You can also view the programme booklet for more information.