D2GRIDS: Sustainable heating and cooling of cities
Heating and cooling account for 50% of the EU's total energy consumption, but at present only 19.1% of it is sourced from renewables, while in 5 countries out of 7 in North-West Europe (NWE) the same ratio is below 8.2%. This makes heating and cooling an obvious target sector for efforts to increase the share of renewable energy sources.
Fifth Generation District Heating and Cooling
Fifth generation district heating and cooling (5GDHC) systems make smart use of the natural exchange of heating and cooling in heat pumps. Since cooling down a building always means that heat is transferred away, thermal smart grids can couple cooling and heating demands to fulfil both simultaneously and efficiently.
Using a cloud of decentralized heat pumps, located at end-user accommodation, energy is exchanged on the grid, and flows are induced through customer demands. The concept allows large scale utilization of low-temperature waste heat, from data centres, supermarkets, industry, etc. Due to low grid temperature, low grid losses and efficient heat exchange mechanisms, total energy demand is substantially reduced, which can be effectively and securely supplied by renewable energy sources, up to 100%.
The D2Grids consortium, of which Open Universiteit is a partner, established five design principles of 5GDHC systems
Closing energy loops
Using low-grade sources for low-grade demand
Decentralized and demand-driven energy supply
An integrated approach to energy flows
Local sources as a priority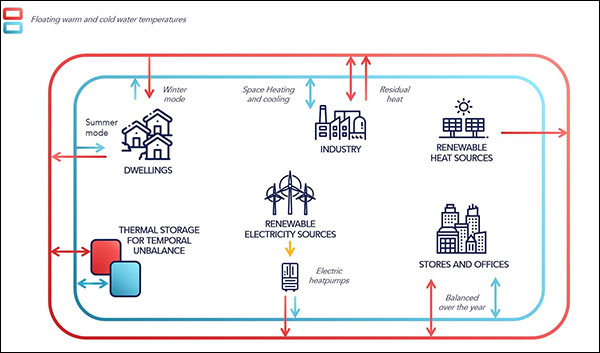 GreenFlex, based on Boesten et al. 2019.
These principles are explained in more detail on the 5GDHC website and in this newsarticle (in Dutch).
The D2GRIDS consortium
To reduce building-related carbon emissions, the D2Grids consortium aims to accelerate the implementation of 5GDHC grids in North-West Europe. Partners from six countries have joined forces in the project consortium D2GRIDS: an acronym for 'demand-driven grids'. The objective of D2GRIDS is to increase the share of renewable energy sources used for heating and cooling to 20% in North-West Europe 10 years after the project ends. The uptake of the 5GDHC concept will be accelerated by:
industrialization of the system through developing a generic technology model and product standards;
boosting commercialization potential of 5GDHC systems through presenting solid business plans and attracting investors;
demonstrating the technology through impactful pilot investments in Bochum (DE), Brunssum (NL), Glasgow (UK), Nottingham (UK), and Paris-Saclay (FR). The five partner pilot sites aim to connect about 50.000 m2 of dwellings and/or commercial buildings to a 5GDHC grid.
Long-term effects will be ensured through:
strategies, feasibility assessments and plans to sustain, scale-up and roll out 5GDHC systems;
tailor-made training packages developed for industry, professionals and policymakers
transnational community building by setting up a 5GDHC Platform that ensures knowledge exchange and interaction among key target groups, and
evaluations to draw recommendations on EU and national policies.
Project funding
The 20 million euro D2GRIDS project is supported by Interreg funds, covering close to 60% of the overall budget - 11.6 million euro. The OU participates for € 400,000 in the project, of which €240.000 is covered by Interreg NWE.
Contribution of Open University
The OU is responsible for ascertaining the long term impact of D2Grids. To spread knowledge about 5GDHC among industry and policymakers, the OU is involved in developing and providing educational programs on 5GDHC. Another responsibility is to develop a method of investigating the climate impact of 5GDHC and apply this method at the D2Grids pilot sites. The OU also coordinates the formation of feasibility studies, action plans, and rollout strategies of 5GDHC in North-West Europe.
Ambitions and important steps are defined for the sustainability and scaling up of pilot investments, for the rollout to new areas and the involvement of important target groups. To make broad outreach and knowledge sharing possible, the Science department of the OU develops customized training packages and workshops for the sector, professionals and policymakers. Also, employees of the department contribute to the assessment of the environmental impact of the implementation of 5GDHC networks.
Project period
The D2Grids project runs from October 2018 to April 2023, including a year extension to compensate for corona-related delays.
Consortium partners
Mijnwater BV [NL]
Open Universiteit [NL]
Asper Investment Management Ltd [UK]
Clyde Gateway Developments Ltd [UK]
ECOTRANSFAIRE [LU]
Bureau de Recherches Géologiques et Minières (BRGM) [FR]
GreenFlex [FR]
Construction21 France [FR]
Vlaamse Instelling voor Technologisch Onderzoek (VITO) NV [BE]
FUW GmbH [DE]
Nottingham City Council [UK]
EPA Paris-Saclay [FR]
See also:
The project description at the Interreg website
Research on energy transition at OU
Contact for the OU
Project staff:
Communication: Immy Willekens
Financial administration: Marlies Timmermans