D2GRIDS: Sustainable heating and cooling of cities
Heating and cooling account for 50% of the EU's total energy consumption, but at present only 19.1% of it is sourced from renewables, while in 5 countries out of 7 in North-West Europe (NWE) the same ratio is below 8.2%. This makes heating and cooling an obvious target sector for efforts to increase the share of renewable energy sources.
5th Generation District Heating and Cooling
A proven but underutilized concept to supply heating and cooling in urban surroundings on a sustainable way is the use of 5th Generation District Heating and Cooling (5GDHC). 5GDHC is a highly optimized, demand-driven, self-regulating, energy management system for urban areas. Its key features are:
ultra-low temperature grid with decentralized energy plants;
closed thermal energy loops ensuring hot and cold exchange within and among buildings;
integration of thermal and electricity grids.
By a cloud of decentralized heat pumps, located at end-user accommodation, energy is exchanged on the grid, and flows are induced through customer demands. The concept allows large scale utilization of low temperature waste heat, from data centers, supermarkets, industry, etc. Due to low grid temperature, low grid losses and efficient heat exchange mechanisms, total energy demand is substantially reduced, which can be effectively and securely supplied by renewable energy sources, up to 100%.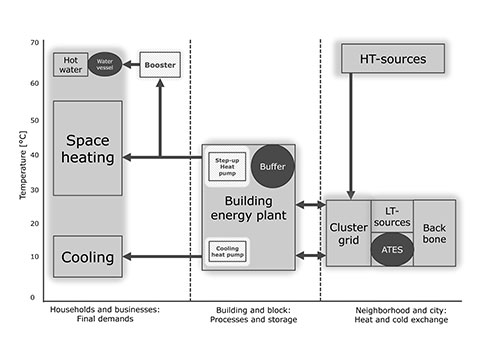 D2GRIDS consortium
To enhance the implementation of 5GDHC grids in North-West Europe partners from 6 countries have joined forces in the project consortium D2GRIDS: an acronym for 'demand driven grids'. The objective of D2GRIDS is to increase the share of renewable energy sources used for heating and cooling to 20% in North-West Europe 10 years after the project ends, through accelerating the roll-out of 5GDCH systems. Uptake of the concept will be accelerated by:
industrialization of the system through developing a generic technology model and product standards;
boosting commercialization potential of 5GDHC systems through presenting solid business plans and attracting investors;
demonstrating the technology through impactful pilot investments in Bochum (DE), Brunssum (NL), Glasgow (UK), Nottingham (UK), and Paris-Saclay (FR). The five partner pilot sites aim to connect about 50.000 m2 of dwellings and/or commercial buildings to a 5GDHC grid.
Long-term effects will be ensured through:
strategies, feasibility assessments and plans to sustain, scale up and roll out 5GDHC systems;
tailor-made training packages developed for industry, professionals and policy makers
transnational community building by setting up a 5GDHC Platform that ensures knowledge exchange and interaction among key target groups and
evaluations to draw recommendations on EU and national policies.
Project funding
The 20 million euro D2GRIDS project is supported by Interreg funds, covering close to 60% of the overall budget - 11.6 million euro. The OU participates for € 400,000 in the project, of which €240.000 is covered by Interreg NWE.
Contribution of Open University
The OU is in lead of the work package Long Term Effects in the project. The OU coordinates the design of a joint transnational deployment strategy. Ambitions and important steps are defined for the sustainability and scaling up of pilot investments, for the rollout to new areas and for the involvement of important target groups. In order to make broad outreach and knowledge sharing possible, the Science department of the OU develops customized training packages and workshops for the sector, professionals and policy makers. In addition, employees of the department contribute to the assessment of the environmental impact of the implementation of 5GDHC networks.
The energy transition is the major challenge of this era; the 5G DHC concept, as such, is a powerful and affordable strategy to decarbonize building stocks in urban environment all over Europe. In the city of Heerlen, we show proven technology and are eager to share our expertise and experiences to accelerate the developments in other areas.
Attracting stakeholders to roll out the technology
Upscaling the technology - boosted by transnational cooperation - enables the consortium to raise the interest of the industry to develop the right products and reduce the costs by 10-20%. VITO/Energyville in Belgium is a key project partner for industrializing the 5G DHC concept and to evaluate results. In the Parkstad Limburg region (NL) Mijnwater cooperates with Weller Social Housing foundation in order to connect thousands of dwellings during their renovation process.
Moreover, the project will deliver plans to create further similar developments in Parkstad Limburg, North-East France, Flanders, the Ruhr-area, Scotland and East Midlands (UK). Dedicated education and training programs, will be set up by Open University, a partner in the project bringing in expertise on post-graduate and digital learning. As the investment-level for such a technology must gain interest from institutional investors (like pension funds). Asper-IM from London will participate by introducing business models and knowledge platforms for the financial markets.
Project period
The D2Grids project runs from October 2018 to April 2022.
Consortium partners
Mijnwater Ltd [NL]
Open University [NL]
Asper Investment Management Ltd [UK]
Clyde Gateway Developments Ltd [UK]
ECOTRANSFAIRE [LU]
French Geological Survey [FR]
GreenFlex [FR]
Construction21 France [FR]
Flemish Institute for Technological Research NV [BE]
FUW GmbH [DE]
Nottingham City Council [UK]
EPA Paris-Saclay [FR]
Vito/Energyville [BE]
See also:
The project page at Interreg NWE
The webpage of overall project lead Mijnwater Ltd
Research on energy transition at OU
Contact for the OU
Project staff:
Communication: Fred Zimny
Financial administration: Marlies Timmermans