The Icon as a Cultural Model (2018)
De faculteit Cultuurwetenschappen van de Open Universiteit Nederland organiseerde in 2018 de internationale conferentie 'The Icon as Cultural Model: Past, Present and Future' om het begrip van de verschillende manieren waarop het icoon heeft gefunctioneerd en nog steeds functioneert als een cultureel model te vergroten.
Onder meer journalisten, kunstenaars en wetenschappers verwijzen naar iconische gebeurtenissen of beelden uit het verleden om de huidige ontwikkelingen beter te begrijpen. Het icoon fungeert daarbij als een model dat culturele betekenis genereert door verleden en heden met elkaar te verbinden. Maar de icoon geeft niet alleen vorm aan ons (collectieve) beeld van het heden, en her evalueert ook niet alleen ons beeld van het verleden. Het opent ook mogelijke scenario's voor de toekomst - of het nu briljant of somber is.
De conferentie 'The Icon as Cultural Model' bracht wetenschappers uit verschillende disciplines samen, zoals kunstgeschiedenis, literaire studies, mediastudies, filosofie en geschiedenis, om interdisciplinaire reflectie te stimuleren over hoe de studie van culturele iconen kan bijdragen aan ons begrip van de dynamiek van cultuur in het algemeen.
Tijdens het congres werd er stilgestaan bij vragen zoals: Hoe worden specifieke historische gebeurtenissen, personen of plaatsen iconisch? Hoe construeren artefacten zoals romans, schilderijen, sculpturen en films iconische beelden van het verleden en / of de toekomst? Wie schrijft de macht toe aan het pictogram? Hoe, waarom en door wie wordt de culturele betekenis veranderd? En waarom blijkt het zoeken naar en uitleggen van culturele modellen op dit moment zeer relevant?
Programmaboekje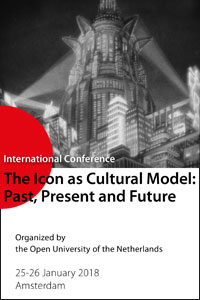 Bundel
Erica van Boven en Marieke Winkler (ed.), The Construction and Dynamics of Cultural Icons (2021) Amsterdam University Press.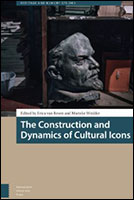 Inhoudsopgave
Introduction: The Construction and Dynamics of Cultural Icons
Erica van Boven and Marieke Winkler
I. People
The Iconization and Mythologization of Byron's Life and Work in Nineteenth-Century Netherlands and Europe
Jan Oosterholt
Lenin as Cultural Icon
Maria Brock
Brigitte Bardot: The Making, Recycling and Afterlife of an Icon
Ginette Vincendeau
II. Places
The Renaissance at a Glance: The Panoramic View of Florence
Paul van den Akker
Iconic City Thrillers: Encoding Geopolitics Through Cinema
Rui Lopes
City Branding: Historical Culture and the Making of 'Hanzestad Zwolle'
Frank Inklaar
III. Objects
National Treasure Tea Bowls as Cultural Icons in Modern Japan
Meghen Jones
What to Lea(f) In, What to Lea(f) Out: Pedagogical Opportunities of a Cultural Icon - Anne Frank's Chestnut Tree
Kirsten E. Kumpf Baele
Exploring the Iconic in Museum Exhibitions
Pieter de Bruijn
Hitler Goes Pop: Reflections on Media Representations and Collective Memory
Yvonne Delhey