Workshop plastic pollution at Clingendael Institute
Ansje Löhr and Frank Van Belleghem from the Faculty of Management, Science and Technology (MST) gave a workshop on plastic pollution in the oceans at the Netherlands Institute for International Relations Clingendael on 19 September 2017.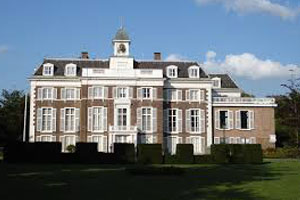 Marine pollution for small island states
18 Senior government officials from small island states participated in the workshop. During the workshop, attention was paid to the specific context of the issue of plastic marine pollution for small island states. Possible solutions to the problems were discussed with the participants.
The workshop was held as part of the Diplomatic Training Program for Small Island Developing States. This training program aims to "Blue Diplomacy: Enhancing sustainable economic development of the ocean" or how diplomats can contribute to the sustainable greening of blue oceans.
Ansje Löhr: "This workshop is a good fit in the collaboration with UN Environment and the research into plastic pollution within the faculty of MST. Excellent that we were able to give this workshop for a special target groupat an institute like Clingendael, with a name in the field of climate change and sustainable development."
About Clingendael
Clingendael, situated in the Hague, is a research institute that studies various aspects of international relations. The institute teaches many diplomats and government professionals, many of whom come from abroad.
May 2017: our second Massive Open Online Course on Marine Litter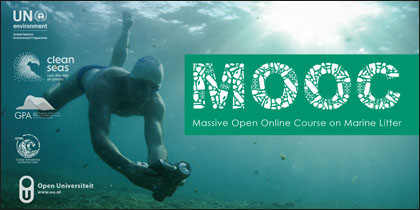 To create global awareness, The United Nations Environment Programme (UNEP) in cooperation with the Open University of the Netherlands, launched a Massive Open Online Course (MOOC) on Marine Litter in 2015. This highly successful MOOC with more than 6.500 students enabled its participants to stimulate leadership and offered opportunities for actionable and change oriented learning related to marine litter within the framework of the Global Partnership on Marine Litter.
Because of its success, this free course was rolled out again.
This second Massive Open Online Course on Marine Litter (MOOC) aimed to help almost 3.000 students, through action learning, on ways to apply strategies in the real world. Moreover, this course assisted policymakers, practitioners, and managers who wish to connect with other professionals to enhance their knowledge of marine litter issues.
The MOOC was available in two tracks: a leadership track and an expert track. It started in May 2017 with the Leadership track taking place over a course of 2 weeks. Those students who wished to remain in the course continued to the Expert track, which was completed in July 2017 (total of 8 weeks).
A certificate of participation could be obtained by students after their completion of both the Leadership track and the Expert track. Students also received free access to all course materials on a 24-hour online platform.
Are you active on Facebook? You can still join the Facebook community.
Are you on Twitter. Follow our account to stay tuned for the announcements of the next enrolment data.
A new UN major global campaign
On February 23, UN environment launched a major global #CleanSeas campaign to end marine litter.